Kevin Curtis's Tag Rugby World Cup 2018 Blog
Tag Rugby World Cup 2015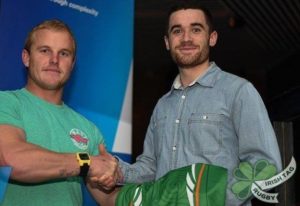 I started playing Tag Rugby casually in Clontarf Rugby Club after years of playing rugby union. In late 2014 it was announced that for the first time Ireland would be entering the Tag Rugby World Cup, hosted in the Gold Coast, Australia in December 2015. After numerous trials I was offered a place on the team.
At the tournament we caused a few upsets and made a name for Irish Tag Rugby but unfortunately just missed out on making it through to the knock-out stages. Following the World Cup, I gave up playing Tag for about 12 months and returned to playing rugby union for Clontarf.
Tag Rugby World Cup 2018
When the 2018 World Cup was announced I attended trials for the Irish squad. After several training sessions I was offered a place on the team once again. The plan was to train in Sydney for a week before the start of the tournament, play warm up matches against local clubs, and then travel north to Coffs Harbour for the tournament itself. The World Cup ran from 1st – 4th November, with multiple matches each day!
Tournament Preparation 23rd – 30th October
We arrived in Sydney on October 23rd for a week of preparation. During this week we also got the opportunity to see a lot of Sydney's tourist attractions including the Sydney Opera house and Bondi Beach. Getting acclimatised to the heat, we dedicated most of our time on training, recovery sessions and practice matches. We played some tough matches against local clubs such as Dolphins Club and Sydney Warriors Club, which we unfortunately drew and lost respectively. However, we showed our ability in beating the Australians u17 team 9 – 8 in our final warm up match. It was clear that we had grown as a team throughout the week and we were confident going into the competition.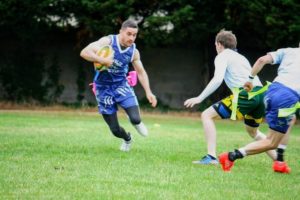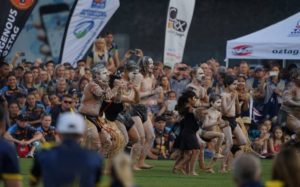 Opening Ceremony
The tournament officially began with the opening ceremony. It was a great spectacle, with crowds I had never seen before at a tag competition. It was also the first time we got to see the other teams we would be up against.
Tag Rugby World Cup 2018 – Day 1
We played 3 games on the opening day, winning all 3! It was a great day for the team.  Our
opening match was against China. I was delighted to contribute to our victory with an individual try from 40 yards out. The Chinese were very quick, but we managed the game well and beat them 8 – 3.
In our second match against Fiji, we came up against much more physical opponents. In a bruising game, which included two sin bins for each team, we came back from 4 – 0 down to win 7 – 6.
In our final game of the day we beat South Africa 8 – 4. The game remained close throughout, but we were fitter and better drilled and this proved to be the difference. 
Unfortunately, I landed awkwardly on my elbow in the Fiji game when securing a loose kick through by one of the Fijians. I finished the match, but my elbow began to swell very soon afterwards. Our physio ruled me unfit for the final game against South Africa and I spent the evening at the team injury clinic having my elbow assessed.
Tag Rugby World Cup 2018 – Day 2
Unfortunately, I was ruled unfit by the team physio to take part on day 2. As a result, I missed the final 3 games of the group stages. Saturday's line up of matches contained some tough opposition. Our first match was against Sri Lanka and we needed a victory to guarantee a spot in the knock out stages. The game started slowly for us, going down 3 – 0 early on. However, we managed to turn it around and came back to win 7 – 4.
Our next match was against former world champions and tournament favourites, Australia. We struggled in the intense heat. They moved the ball at frightening speed, pulled us out of position and exploited the gaps in our defence. We couldn't handle their pace and lost our first match of the tournament in what ended up being a heavy defeat losing 15 – 2.
Our final match of the day was against the New Zealand Barbarians. At the end of a long day in the energy sapping heat, we struggled to perform. We made a lot of basic errors and failed to cope with the physicality of the Barbarians. We ended up losing the match 11 – 4, and we were very frustrated, as we felt this team was no stronger than any of the previous teams we had beaten. On a positive note, we knew we had done enough to progress to the quarter finals. Overall, it was a frustrating day for the team, and for me personally, as I had to watch on from the side-lines.
Tag Rugby World Cup 2018 – Day 3
On Saturday evening we found out we would be playing Samoa on Sunday morning. On Sunday morning I went to the physio to be reassessed to find out if I could play. The physio strapped the elbow and I decided to kit out and play the match. Named back in the starting team, on the wing, I was delighted to have the opportunity to make up for lost time to try to make an impact. We started positively, attacking and defending very well, with both sides giving it everything. In a very tight game, it was neck and neck until the final whistle. However, we ended up on the wrong side of an 8 – 7 score line. We fought to the very last minute, having 2 tries disallowed, but Samoa held on.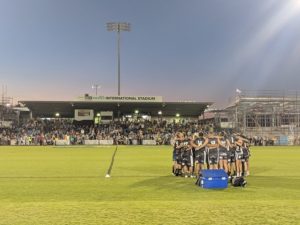 Our World Cup was over, but I was very happy to have been able to take part in the final day and to have left nothing on the pitch. Overall, representing Ireland in the Tag Rugby World Cup was a great experience, particularly when I had no expectation of doing so when I started playing tag socially 6 years ago.