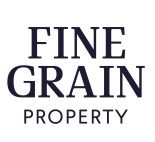 Fine Grain Property is an Irish long term, patient investor, focused on building workplace communities which allow employers to attract and retain employees in an environment of success. 
What will the workplace of the future look like? It's the question that businesses worldwide have been pondering since Covid-19 brought remote working into the mainstream for the first time. Research by NUIG through the pandemic suggests that just 27% of people would like to work remotely on a full-time basis, with the majority preferring to combine working from home with office life.
Fine Grain Property believes thoughtfully designed offices promote employee engagement.
Collaboration & community
It's likely that many businesses will move to a hybrid of working from home and office-based work when the Covid-19 pandemic passes. Fine Grain Property's research indicates that in the aftermath of the pandemic, the ability to collaborate and build communities at work will be the centre of office life.
The company's Future of Work survey results indicated that a well-designed office can help create a stronger sense of community and that a workplace with a strong sense of community is more likely to have satisfied staff. The survey found 56% of employees want health and wellness facilities, 53% value good transport links and 43% want to work in an environmentally friendly building.
The workplace of the future must be built around employees' needs as well as environmental requirements. Fine Grain Property delivers tailored workspaces with employee engagement and long-term staff retention in mind.
Location, location, location
As with all property, location is among the most important factors. Fine Grain Property seeks out high-potential properties that have been overlooked or underinvested and repositions them to meet client needs.
By investing in business parks in locations like Athlone, Shannon and Cork in addition to offering options in Dublin, Fine Grain Property gives clients the opportunity to grow without the often prohibitive expense of locating in the capital. As well as being close to international airports, these business parks are located close to some of Ireland's top universities in Cork, Limerick and Galway, providing a continuous pipeline of talent for businesses operating in Ireland.
Choosing to grow a business outside of Dublin can be attractive to employees, as commuting times tend to be shorter outside the capital, house prices are more reasonable, and office space is less congested. It seems likely that as businesses assess growth options post-pandemic, more and more will look to achieve regional balance instead of concentrating resources exclusively in Dublin – and Fine Grain can facilitate that.
Workplace of the future
Evidence shows that tailored working environments help clients attract and retain talent while boosting employee engagement to drive productivity and business success. As the workplace of the future becomes a reality, our aim is to work closely with our clients to deliver the spaces they need.
Find out more about Fine Grain Property at finegrainproperty.com